How to Use Remote MySQL Feature
Enabling remote MySQL access can be beneficial for several reasons. This feature allows remote hosts (different servers) to access your mySQL database. For example, if you want to allow a third party, such as a shopping cart application, to use the database.
Things needed:
Access to your cPanel account
The IP address or domain name you want to grant access to
Step 1. Find and Access the Remote MySQL Feature
Find and open Remote MySQL® tool under the Databases section.


Step 2. Allow Remote Server Access to Your Databases
Enter the hostname or IP address in the Host field. If you want to access the database from the localhost, you can use your public IP address which can be found here. Or, simply enter a fully qualified domain name, like www.3dcart.com, then click Add Host.


Note: You can use the (%) character as a wildcard. For example, if you wish to grant access for all IPs that begin with 192.168.0, simply enter 192.168.0.%.
Step 3. Delete Remote Server Access to Your Databases
To remove previously granted access, you can do the following:
A confirmation window will show up, and simply click Remove Access Host.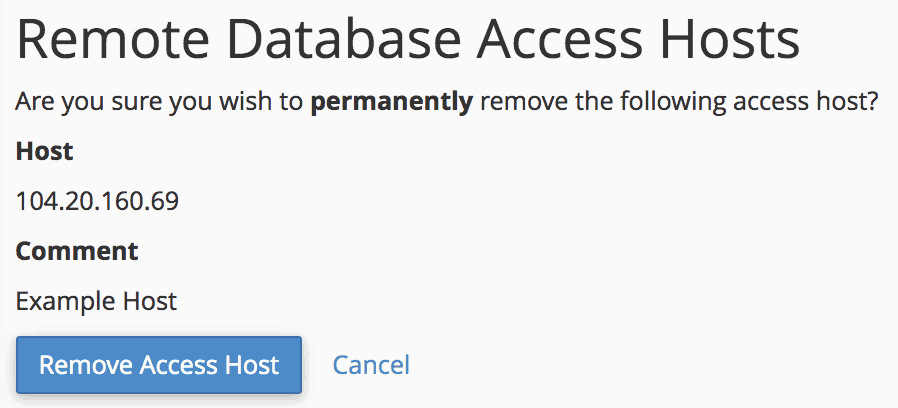 And that's it. You can easily allow and remove remote access to your MySQL databases. For security reasons, please don't give permission to an unauthorized person.